Beach Report - Singa Lodge
As the days gets longer and the sun gets brighter, plans to hit the beach should be at the top of your lists when visiting PE. Singa Lodge is a few minutes walk to the pristine coastline and our gorgeous pier. 
Visit any of the following beaches along our popular boardwalk. Remember to pack your sunscreen and some treats and you're all set for some fun in the Port Elizabeth sun. If you are looking for something tasty to eat, visit any of the local restaurants or cafes along the boardwalk.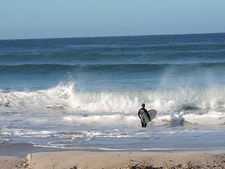 "The Pipe"
Affectionately known as "The Pipe" by local surfers, making it perfect for the surfing community. Pack a basket and sunbathe on the grassy lawns and hit the waves Simply head down 10th Avenue, passing the Summerstrand Memorial Park. Take a left onto Marine Drive and simply Parkrun Hobbie Beach walk to find Pollock Beach filled with surfers ready to catch that epic wave.
 "The Reserve" 
The Nature Reserve doubles up as a 9km walking trail and offers unspoiled beaches and rocky outcrops along the natural dune. As you're walking along the route don't forget to check out the flora and fauna in the reserve. Visitors are allowed to visit the Cape Recife Lighthouse, which was recently refurbished. Costs to enter the lighthouse are R25 for adults and R15 for children.
"The Pier"
Located in the vicinity of Shark Rock Pier and the Boardwalk, Hobbie beach is the destination to be. The beach plays host to the annual Splash Festival and other popular beach sports championships such as volleyball and the world abseiling championship. 
Hobie beach, which is a favorite for swimming, sunbathing and body surfing, also offers sheltered rock pools with interesting inter-tidal sea life. Other facilities include plenty of eating establishments, ablution facilities, as well as a launching place for sailing and rubber ducking.