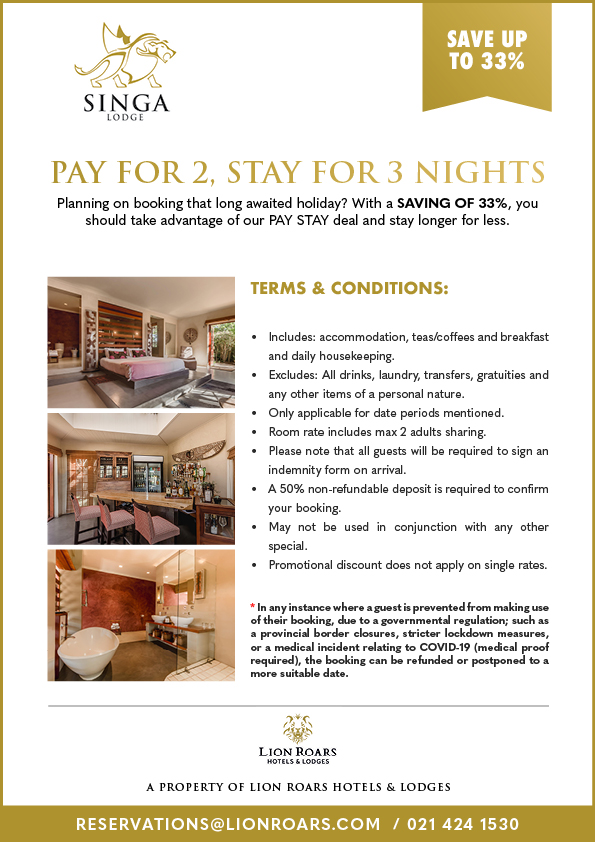 Planning on booking that long awaited holiday?
With a saving of 33%, you should take advantage of our PAY STAY deal and stay longer for less.
Valid for the following dates: 
11 April 2023 - 30 September 2023
11 April 2024 - 31 August 2024 
01 May 2025 - 31 August 2025
Get in touch with us at our Reservations Office to book your stay:
021-424-1530 or alternatively, email us at reservations@lionroars.com.
Terms and Conditions:
Includes: accommodation, teas/coffees and breakfast and daily housekeeping.
Excludes: All drinks, laundry, transfers, gratuities and any other items of a personal nature.
Only applicable for date periods mentioned.  
Room rate includes max 2 adults sharing.
Please note that all guests will be required to sign an indemnity form on arrival.
A 50% non-refundable deposit is required to confirm your booking.
May not be used in conjunction with any other special.
Promotional discount does not apply on single rates.